Are there compelling reasons to use a delivery apps for businesses?
Without a doubt, the delivery industry is one of the most favored by the Coronavirus pandemic. Considering the various quarantines that people were subjected to and the latent threat of a new wave of viruses, many prefer to stay home. This is where delivery apps for businesses became an essential part of the sales market.
Another phenomenon pushing this industry considerably is convenience or the ability to effortlessly get what you are looking for.
The thing is that what the pandemic did was to accentuate something that was on everyone's lips, and that only became widespread with the arrival of the virus, which is the possibility of ordering something and enjoying it in the comfort of home. Whether we are ordering something to eat from the various web platforms or request a product to be delivered to our doorstep.
Consequently, the few companies that did not fall into the pandemic were precisely those who dedicated themselves or emphasized delivery as their primary weapon to face a crisis that ended many businesses.
According to estimates based on statistics from the international agency Statista.com "During the coronavirus (COVID-19) pandemic in the United States in 2020, the restaurant industry was heavily impacted as restaurants could not offer indoor dining. When looking at the year-over-year daily change in seated U.S. restaurant diners during the start of the pandemic in March 2020, the number of seated diners fell by 100 percent. This decrease in indoor dining allowed the online food delivery industry to gain a stronger hold on the market. A 2020 survey on the share of the U.S. public that ordered food online or by the app during COVID-19 reported use of these services across all areas surveyed, from rural to suburban and urban populations. Over one-third of both suburban and urban respondents indicated that they had used online food delivery services or restaurant apps to order food, suggesting it was more common to order delivery in these areas."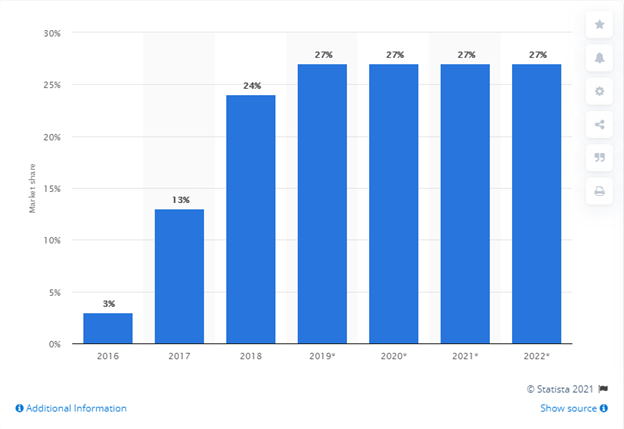 Precisely, as indicated by the consultancy, the industry moves around 133 million dollars in the food delivery sector—this impressive growth in sales, largely a product of the pandemic. Users' convenience is also leading more and more restaurants to join these platforms in search of a new way to increase their sales and survive the possible new quarantine stages that could occur if vaccination efforts do not arrive in time.
This has given way to reinforce the business of ghost kitchens. Ghost kitchens are restaurants dedicated entirely to online sales, without tables, waiters, or a well-located place, only with a few cooks, raw materials, a stove, and profiles on the leading food delivery platforms. These characteristics allow them to save many costs related to the physical sale, especially in initial investment, although it forces them to dedicate great economical efforts to the digital channel.
In conclusion, whether physical or just home delivery, businesses need an application that allows them to take orders from frequent customers, capture new ones and have access to their databases.
Suppose you are affiliated with one of the current delivery applications such as Uber Eats, Doordash, Postmates, etc., where you simultaneously compete with hundreds of other restaurants. In that case, you are missing the opportunity to go further in your marketing, loyalty, and acquisition of new customers, not to mention the payment of large sums of commissions to these third parties.
After reading this, you could now answer the initial question: are there compelling reasons to be in a delivery application? The new question would be: is it worth using a delivery app that already exists on the market? Or is it better to have a custom delivery app?
Having a delivery app for your business is very easy and less expensive; if your company has a delivery service and you would like to have your own App, write to us at [email protected] and advise you on your search.